With the undeniable resurgence in interest and production of Rosés this year, we decided to embark on a summer mission to find the most refreshing Rosés in the Napa Valley and beyond. In the final installment of this two-part blog (check out part one here), we, along with some special guests, share our thoughts on each wine. We promised you six wines, but we couldn't narrow it down, so you get nine! That's just how Verve rolls...
The Players
From the Verve team: T, Emma, Denae, Bill, and Rob.
A few special guests:
Julie Webster, Hospitality Manager, Azur Wines
Marilyn O'Connell, Wine Buyer, C Casa
Deirdre Bourdet, Chief Eating Officer, Hedonism Ink
Drew Neiman, Owner, Neiman Cellars
Karen and Dan Lynch, Owners, Inn on Randolph
Lili Shariati, Sales & Hospitality, Kelly Fleming Wines
Mike McDevitt, COO, HarperRand
Ashley Kassis, CEO & Founder, Kassis Consulting
Jen Giudice, Best friend of Ashley Kassis
The Accoutrements
Fresh-picked nectarines, strawberries, and plums from the Verve HQ garden. Plus local cherries.
Homemade meat dishes by Dierdre & Marilyn: Jambon Persillé, a regional specialty of Burgundy, is made of cured ham chunks and finely chopped fresh parsley and held together in an aspic made with white wine and aromatics like leeks or shallots, carrot, and celery. Fun fact: this dish is a personal favorite of winemaker Stéphane Vivier (Hyde de Villaine and Vivier Wines). A second dish was made of thinly sliced poached Fatted Calf pork with seasoned with ground fennel seeds, black pepper, and sea salt. Topped with Marilyn's homemade pickled radishes!
Cheeses: Rochetta Three-Milk Alta Langha, Snowfields Butterkase Saxon Homestead Creamery, Caseificio dell'Alta Langa La Tur. Served with crackers, breadsticks, and olives.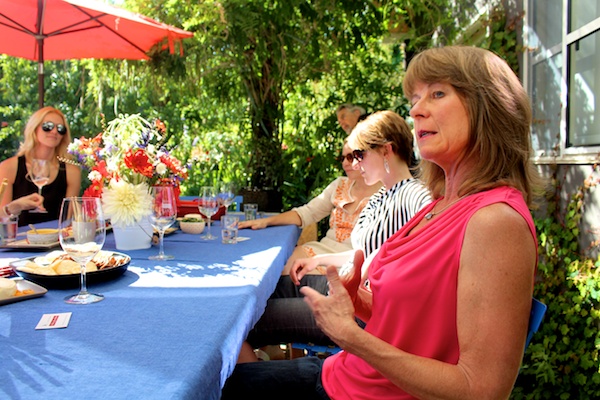 And Finally, Some Dessert...
We were spoiled with delicious Napa Pops popsicles! With flavors like Cucumber Honeydew and Sauvignon Blanc, how can you go wrong?
Flavors: Cucumber Honeydew, Mojito, and Sauvignon Blanc
"The Mojito is well-balanced with enough spiciness to know there's pepper in there without it being overwhelming."-Karen

"This Sauvignon Blanc popsicle is the first I've had in 40 years! It's a grown-up popsicle."-Bill

"Nice consistency. VERY cucumber and very authentic in flavor!"-Rob


Hope you enjoyed our Rosé journey! As always, we'd love to hear your feedback — feel free to leave us a comment below, or email us directly here.